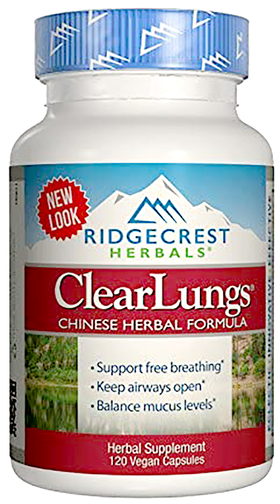 Pulmões desobstruídos, 120 Cápsulas
Temporariamente indisponível
Volte a verificar em breve
Preço de varejo:
CVE Esc 3,746.17
Nosso preço:
CVE Esc 2,848.83
(Desconto de 24%)
Sua economia:
CVE Esc 897.35
Tamanho da dose:
2 Capsules
Montante
por dose
% Valor
diário
(VD)
ClearLungs herbal blend (500mg/capsule)

Dong quai root, Ophiopogon root, Poria fungal body, Chinese Asparagus root, Chinese Skullcap root, Gardenia fruit, Luo Han Guo fruit, Platycodon root, Tangerine mature peel, White Mulberry root bark, Zhejiang Fritillay bulb, Schisandra fruit, Chinese Licorice root.

1000 mg
*
Outros ingredientes:
Vegetable capsule, microcrystalline cellulose.
Capsule Size "0". Contains no corn, dairy, gluten, GMO, soy, wheat, yeast or animal products.
Direções:
Adults and children age 12 or over, take 2 capsules (ages 6-11 , take 1 capsule) every 4-8 hours as needed to maintain healthy lung function. Results are usually felt within hours, and increase with continued use. Once desired results are obtained, try 1 to 2 capsules twice daily for maintenance. May be used indefinitely if desired or as needed for seasonal or temporary conditions.
AVISO:
Do not use if safety seal around cap is broken or missing. If pregnant or nursing, see a doctor before use. Keep out of reach of children.
* Dose diária (DD) não estabelecida.